Below you'll see a YouTube video created by a firm of accountants in New York.
If this top 100 firm does different so can you, can't you?
This video features Bill Hagaman – pictured above, dancing with his arms in the air at a 'flash mob party' to a song called Party Rock Anthem by LMFAO.
He's the managing partner of a large accountancy firm called WithumSmith+Brown, being brave, and happy to be different with his team. Some would call it being daft – he wouldn't agree!
If you don't want to watch the whole video start at minute 6.00 and watch Bill Hagaman start the dancing all off again!
Why should you watch this video?
Here are 4 reasons…
The video was responsible for the firm winning a very high profile client!
It transformed their ability to recruit high-quality people to the firm.
It truly set the firm head-and-shoulders above their competition.
Thousands of YouTube and Twitter hits have done Willum no harm either!
Marketing is as much about being different as it is about being better (probably more so because of the uber-busy lives we live).
Does it pay to be different?
You bet it does!
Here is a top 100 firm in the USA showing us all how to be seriously different and seeing it work!
Click on the play button below to watch this video…
…but if the video won't play due to copyright restrictions in your country, go here to see the video on YouTube.
Watch out for the blue gloves – cool branding me thinks.
And notice that all the staff who dance in the video get listed in the credits at the end, in alphabetical order by their first name. This is a firm which honours and celebrates its employees.
If you read the comments on YouTube you'll find people wanting to work for WithumSmith+Brown – and replies below them from staff at Withum detailing the email address so they can apply.
This article in Accounting Today magazine describes the story behind this video and another they made last year. It also shares the successes they have experienced as a consequence of making the decision to be different.
Even better, for me, is the first video Withum created, which shows Bill Hagaman…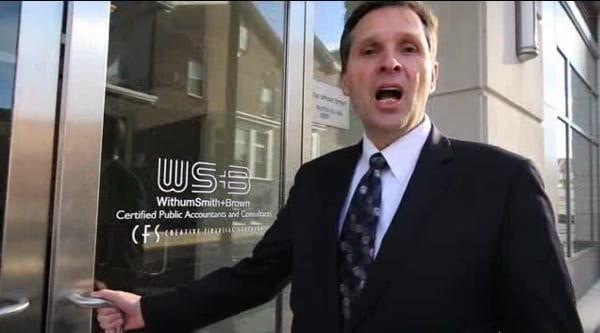 …and others in the team, dancing to the song I Gotta Feeling by The Black-Eyed Peas...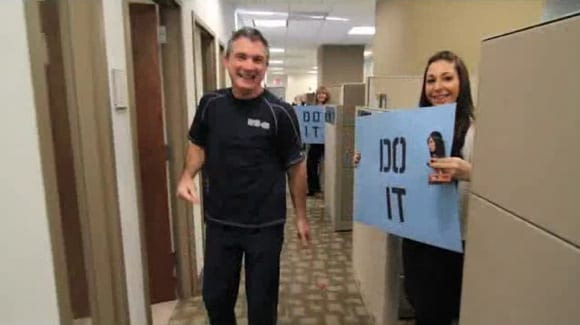 …which you might find as moving and inspirational as I did.
Here's why…
Everyone on the team seems to be having a blast.
No wonder Withum shows this video off at exhibitions to help them recruit talented new staff, and new clients!
What have you done in the past that has brought you worthwhile recognition by being different?
What could you do today or over the next few weeks and months that is brave and a bit different?
Tally ho!