It's guaranteed…
…you'll not be perfect at delivering all your services to all of your clients all of the time. Agreed?
What's also certain is that the way you handle problems and complaints helps determine whether you get a positive or negative outcome from each problem. Your attitude to problems and complaints can determine the future success of your firm.
A personal example…
Recently I was meant to swim a mile in the Great North Swim in Lake Windermere.
The Wednesday before the race they texted me (and 6,000 other swimmers) with some news. Due to blue-green algae, the race had been postponed. Dissapointed is an understatement but it wasn't the organisers fault.
4 days later they emailed me (and the others) to say it had been cancelled completely because of dropping water temperatures and persistent blue-green algae! But I could transfer my entry to next year's event.
And then…
…I received this letter from the organisers http://www.greatswim.org/edm/gns/2010/edm_09.htm
…to say they are sending me a T-shirt of the event as a goodwill gesture.
You know it was UNEXPECTED and it made me feel better. It made me write this blog and I'll tell my friends at the swimming club what they did (good word of mouth – maybe leading to a referral!).
They handled an unforeseen problem brilliantly well and turned it into a referral strategy.
How can you do the same for customer problems in your accountancy firm?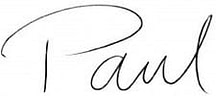 Paul Shrimpling